Beautiful Disaster
by
Jamie McGuire
My rating:
2 of 5 stars
Beautiful Disaster should be avoided by teenage girls. Seriously.
Maybe because this type of dysfunctional relationship is not my cup of tea or something. But believe it or not, I don't believe for a single moment that love can conquer anything. The idea of it is ridiculous.
When I was first introduced to Travis Maddox, I was like: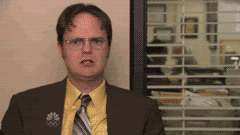 Not again! The whole archetype of bad boy image and that one girl can conquer him or solve whatever puzzle inside the disturbing mind of the guy.
But I decided to continue. For unknown reasons, I was secretly hoping that Beautiful Disaster would, you know... redeem itself. I even did a hopeful dance.
Alas, it was a hopeful but, didn't-work dance. The severe psychological anomaly of Travis Maddox (he's possessive, he is controlling, he is violent, he is temperamental etc etc) didn't change at all even until 3/4 into the book. Blah. Why did even Abby agreed to stay with him in longer period of time? What kind of a fucked up sense it is sleeping on the same bed with a guy without doing anything.
Of couse something would have happened
. I wouldn't judge people who gossiped about Abby, because their judgement are completely logical.
Travis' friends should have brought him to the psychiatrist if they really are his friends. Or even Abby. But they never bother to think how much Travis is ill mentally.
I couldn't even finish the book. And I read somewhere that they got married in Las Vegas. At 19.
ATTENTION YO' PEOPLE! LOVE CAN CONQUER ALL!
how the fuck are they gonna have enough money? Parents, someone? Did they got married just like that? Maybe they will become the thief-bag duo and travel all around US just to steal and rob at banks. Is thief-bag even a word? Meh.
1.5 stars. 2 for the entertainment value. For shits and giggles.
View all my reviews